Introducing … Noelle Zimmerman
School: Baldwin School (Villanova, Pa.)
Sport: Softball
Year: Class of 2016
My dream job, outside of being a professional athlete, would be … I am not sure but a job where I am helping other people or animals.
If you'd see my iPod, you'd find …Imagine Dragons
I currently drive a … I am too young to drive in my state!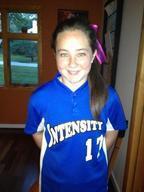 Someday, I'd like to be driving a … White Bugatti
The best part about my hometown is… living close enough to go to Center City Philadelphia
My dream city to be living in 10 years from now is … Honolulu (or ANY city in Hawaii)
The ultimate compliment is when I get compared with …a professional athlete
If I could be teammates with one pro athlete in any sport, it'd be…Lauren Chamberlain
If I could meet anybody, it would be …Tyler Posey
The websites I couldn't live without are … Twitter, Supercook and Google
The greatest meal ever is …Pizza, Cheese Fries and a Cheesesteak
Best movie of all-time is …Billy Madison
My can't-miss TV show is Teen Wolf
My favorite pro team is … Philadelphia Flyers
Worst thing about pro sports is …that there aren't more women's sports
Best uniforms in sports belong to …Chargers
One thing my coach always says that I'll never forget …"You need not be tall to be great at softball"
I will consider myself a success when I …find a great college to go to where I can play softball and learn a lot
If I won the lottery, the first thing I'd buy is …A house in the Caribbean
If I could tell one person thanks, it would be … My parents, for believing in me and pushing me
Ready to be "introduced" to the high school sports world? Submit your answers to the above questions – with a photo of yourself – to Suzanne Schwerer at sschwerer@usatoday.com.
JASON JORDAN'S WHAT I'M THINKING TODAY …

Duke haters probably shouldn't read this, but how good are the Blue Devils going to be next year with Whitney Young (Chicago) center Jahlil Okafor and Apple Valley (Apple Valley, Minn.) point guard Tyus Jones in the bag?
Oh my!
The No. 1 overall player in the class (Okafor) and the No. 1 point guard (Jones)?
Is that even fair?
It gets worse; the Blue Devils have also sewed up Saint John's (Houston) wing Justise Winslow and Providence (Jacksonville, Fla.) shooting guard Grayson Allen. All four are five-star recruits.
Ladies and gentlemen your preseason No. 1 team for the 2014 college hoops season…
WHAT I CAN'T GET ENOUGH OF RIGHT NOW …
"I'd rather people be 100 with me, rather than lying to me to make me happy." – Huntington Prep (Huntington, W.Va.) point guard JaQuan Lyle
– Jason Jordan