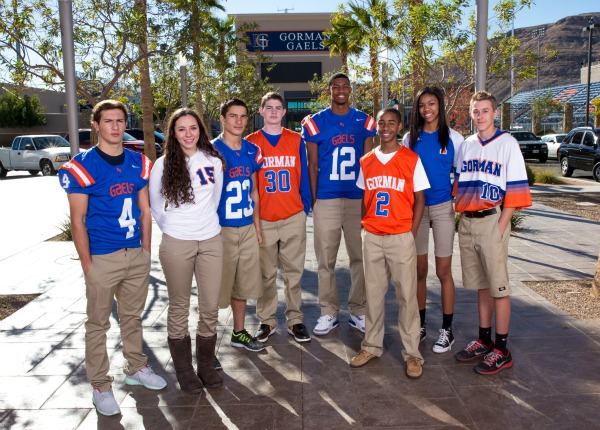 From left to right; Nicco Fertitta, Makena Sherwood, Biaggio Ali-Walsh, Travis Rice, Randall Cunningham Jr., Julian Payton, Vashti Cunningham , Chase Maddux / Photo by Makena MarkmanGorman Athletes
Randall Cunningham Jr. and Nicco Fertitta will be among the key players as the four-time defending Division I champion Bishop Gorman (Las Vegas, Nev.) football team opens the state playoffs on Friday night against city foe Spring Valley.
They are just two of the many athletes with ties to celebrities who attend Gorman, a Catholic school of 1,350 students in grades 9-12.
Cunningham, the son of former NFL star Randall Cunningham Sr., is a 6-5, 185-pound senior quarterback who has thrown for 1,321 yards and 12 touchdowns, while running for 941 yards and six touchdowns. He also is a brilliant high jumper who led the nation last year with a leap of 7-3 ¼.
Fertitta, a 5-8, 171-pound junior safety, is the son of Lorenzo Fertitta, who owns the Ultimate Fighting Championship (UFC) and other sports enterprises. He has made 29 solo and nine assisted tackles. Coach Tony Sanchez calls him "an extremely hard hitter with a high football IQ."
Even the coaching staff has a celebrity, former NFL player Cedric Tillman.
Leading the freshman football team to a 9-0 record this year was a star of the future, Biaggio Ali-Walsh, the grandson of boxing superstar Muhammad Ali. The 5-9, 170-pounder scored over 30 touchdowns and gained nearly 2,000 yards, according to coach Bob Burgman.
Cunningham has a sister, Vashti, a 6-foot sophomore, who was the No. 4 high jumper in the nation as a freshman at 6-0 ¼. She also is a standout volleyball player. UCLA and Texas are two colleges who already have her on their radar. She can touch 10 feet, two inches and her vertical jump is close to 30 inches.
The boys basketball team has two sophomore guards who are linked to famous fathers. Julian Payton (5-9, 130), son of NBA All-Star Gary Payton, was named MVP after leading the frosh team with averages of 15 points, eight assists and three steals. Travis Rice (6-1), who averaged 12 points, is the son of UNLV coach Dave Rice and the nephew of Gorman coach Grant Rice.
On the baseball field, check out junior right-handed pitcher Chase Maddux (5-10, 120), who compiled a 7-1 record on the JV team last year. The son of former Major League star Greg Maddux , he has three pitches with great location and his famous father says he was about the same size at a similar age.
Gorman coach Nick Day loves to pick Greg Maddux's brain at every opportunity and calls him "the Peyton Manning of baseball."
The volleyball team has a talented junior setter, Makena Sherwood, whose step father is St. Louis Cardinals standout relief pitcher Randy Choate.
Morrow kicks 5 field goals
Brandon Morrow kicked field goals of 47, 46, 42, 31 and 20 yards to help Brookwood (Snellville, Ga.) edge Grayson (Loganville, Ga.) 30-27 in overtime.
Two five-overtime games
In Kansas, Manhattan nipped Maize 60-59 in five overtimes with a surprise two-point conversion. In Louisiana, Dutchtown (Geismar) defeated St. Amant 53-50 in another five-overtime thriller.
Massey accounts for 11 touchdowns
Dre Massey passed for seven touchdowns and ran for four as Mauldin (S.C.) outlasted Boiling Springs (Spartanburg, S.C.) 83-70.
Mason just misses record
Senior Tyus Mason ran for 470 yards as Valley (West Des Moines, Iowa) dealt Ames (Iowa) its first loss 63-20. The 5-9, 155-pounder missed the state record by just 14 yards and he sat out the game's final 5:51.
Purichia sets Indiana record
Following a 35-10 victory over Speedway, senior Jake Purichia of Cardinal Ritter (Indianapolis) holds the Indiana state record for career touchdown passes with 131.
Dallas Cook rules Montana
Senior quarterback Dallas Cook (6-4, 210) completed his brilliant career at Butte (Mont.) with 14 state records – including career points accounted for (604), touchdowns (99) and touchdown passes (76) and single-season points accounted for (338) and touchdowns (56).
USA to play Team Canada
The USA Under-19 National football team will play Team Canada on Feb. 7, 2014, at the University of Texas at Arlington. They have split their first two meetings.
USA hockey teams shine
The U.S. Junior Select hockey team defeated Russia 4-1 to win the World Junior A Challenge in Yarmouth, Nova Scotia. Nick Schmaltz, a senior who currently is living in Green Bay, Wis., was named MVP after scoring a record 12 points and tying the record with eight assists in four games. Connor Hurley, a senior at Mona Shores (Muskegon, Mich.) had seven assists.
*The U.S. National Under-17 Team defeated Russia 5-3 to win the Four Nations Tournament in Prievidza, Slovakia for the fifth straight year. Luke Kunin of Chesterfield (Mo.) led the way with two goals and one assist.
*The U.S. National Under-18 Team defeated Switzerland 6-2 to place second during the Four Nations Tournament in Turku, Finland. Alex Tuch of Baldwinsville N.Y., notched two goals and one assist.
National swim records fall
Sensational junior Caeleb Dressel of Clay (Green Cove Springs, Fla.) set a national record in the 50-yard freestyle during the Class 2A state meet by leading off the 200-yard freestyle relay with a brilliant leg in 19.29 seconds. He held the previous record of 19.36.
However, he lost his national record in the 100-yard butterfly when University of Texas recruit Joe Schooling of Bolles (Jacksonville) was clocked in 45.52 seconds during the 1A state meet. Dressel's record had been 45.89.
National volleyball record set
Sydney Chandler set a national volleyball record this year with 6,414 assists during her outstanding four-year career at Bayside Academy (Daphne, Ala.), which won its 12th consecutive Class 3A state title. The 5-6 Chandler, who carries a 3.98 GPA, is nicknamed "Sizzle" for her dynamite serves.
Olympic marathon qualifier
Alana Hadley (age 16) is the youngest Olympic marathon trials qualifier since 1984. A junior at Audrey Kell (Charlotte, N.C.), she earned her berth by placing fourth during the Indianapolis Monumental Marathon with a time of 2:41:46.
105-game win streak broken
Cathedral Catholic (San Diego, Calif.) ended a 105-game boys water polo winning streak by nipping powerhouse Mater Dei (Santa Ana, Calif.) 8-7 in overtime.