It's not all about what they are saying and where they are signing – check out what they are wearing!
USA Today High School Sports' Sarah Gearhart and Suzanne Schwerer chime in on the standout signing day fashion statements.
Solomon Thomas
High School: Coppell (Texas)
Signed with: Stanford
Statement: Nerd Glasses



Sarah: Nerd's the word. If you're going to rock bold glasses like so, a proper button up is in order. Thomas gets it half right. A white shirt with a vibrant mod tie would drive up the look.


Suzanne:I know the thick frame hipster glasses have been in style for awhile. You'll even see Kim Kardashian rocking those. The tape around the middle is a new touch though. I don't hate it. He's just expressing the side of him that loves Harry Potter perhaps?
Mattrell McGraw
High School: John Curtis (La.)
Signed with: Oregon
Statement: Red suit and polka dot tie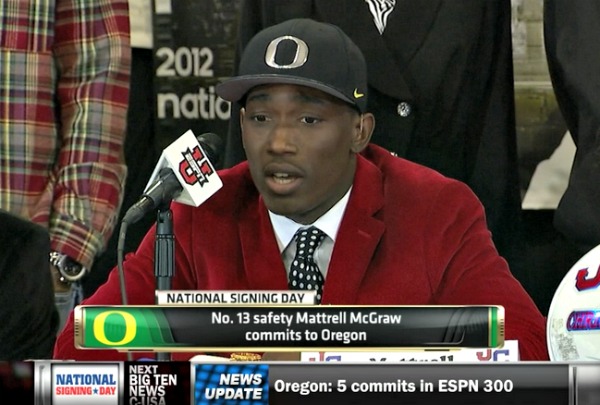 Sarah: Do I spy a velvet blazer? This reminds me of the seat fabric at a movie theater. The polka dot tie is a funky twist, but overall the pairing falls flat.


Suzanne: A red velvet spin on the Timberlake staple. I love it. Red and black, one of my favorite color combinations – it stands out and it looks classy. The polka dots on the tie add the right amount of snazz. A+ for you Mattrell!
Terrence Alexander
High School: John Curtis (La.)
Signed with: Stanford
Statement: Classic Prep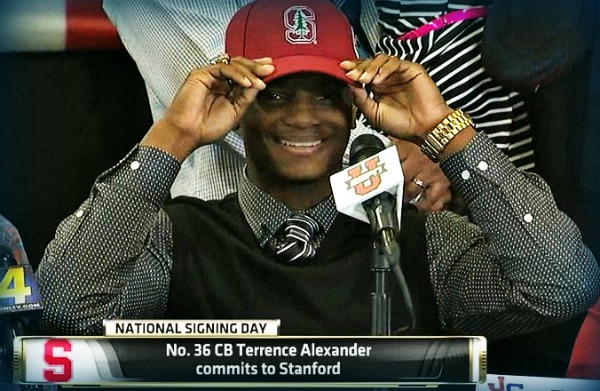 Sarah: I adore this look. Alexander knows how to mix two competing patterns and makes it look fab! Yes to this.


Suzanne: Dress shirt. Sweater vest. Tie. I am a big fan of this look – for midnight mass on Christmas Eve. Not for signing day. This is your chance to wear something crazy, why keep it simple? Go big! That gold watch though…
Damien Mama
High School: St. John Bosco (Calif.)
Signed with: USC
Statement: Luau ready



Sarah: I can't even…it looks like leaves fell all over Mama and he didn't even bother to swipe them off. I'm Hawaiian. I adore leis, but this doesn't quite work.


Suzanne: Mama looks like he's ready for a luau. Bringing the fun to signing day. I dig it. Mahalo!
Sony Michel
High School: American Heritage (Fla.)
Signed with: Georgia
Statement: Seeing double
Isaiah McKenzie
High School: American Heritage (Fla.)
Signed with: Georgia
Statement: Seeing double


Sarah: Someone call a tailor stat. Or, I'll get my sunglasses to help cloud these outfits when I look at them. I like red. I like grey. Usually it's a good combo. But not today.


Suzanne: The newest stars of the Broadway classic My Funny Valentine? They wore the colors of the school they commited to though, so they get some points for that.
Malachi Dupre
High School: John Curtis (La.)
Signed with: LSU
Statement: Super trendy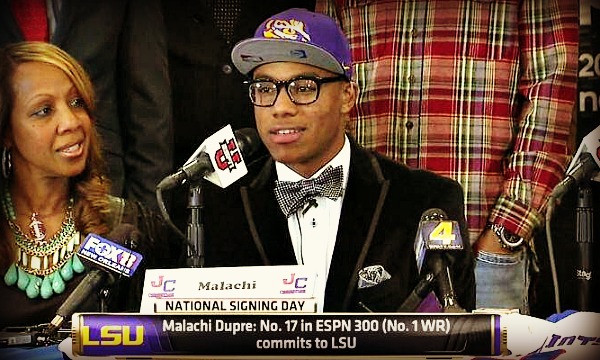 Sarah: Oh he fancy huh. Question is, did he get his nails done, hair done, everything done, even what looks like a bespoke black blazer? I can go no farther…


Suzanne: I'm calling this the fantastic four. Bow-tie, velvet blazer, pocket square, hipster frames. On paper I would say all of that put together would be too over the top, but he is making this work!
Lorenzo Carter
High School: Norcross (Ga.)
Signed with: Georgia
Statement: You can't see me.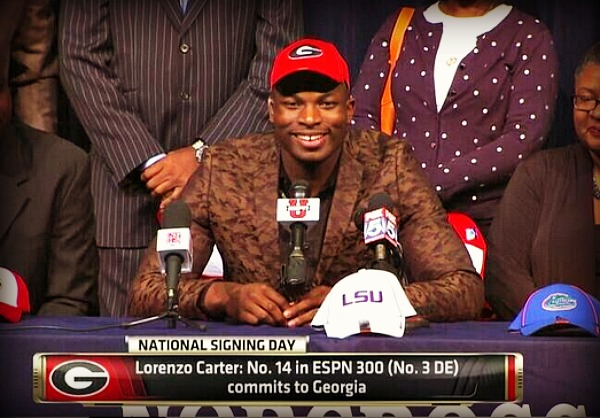 Sarah: Obviously the blazer failed to make it to the dry cleaners. Good thing Lorenzo's fiery red hat draws the attention away from said mistake and on what matters, his head.


Suzanne: Someone has been watching WAY too much Duck Dynasty. But you know what, if Willie and Jase can pull it off, why can't Lorenzo Carter. You are NOT blending in Lorenzo. I see you.
Dante Sawyer
High School: North Gwinnett (Ga.)
Signed with: South Carolina
Statement: He got Gamecock
Korie Rogers
High School: Buford (Ga.)
Signed with: Clemson
Statement: Clemson Chic


Sarah: Mr. Rogers, what, what. #bowtielife. Need I say more? And on the right, I could have sworn the Kentucky Derby is in May not February, no?


Suzanne: What is this obsession with bow ties! I would love this whole look without it. It seems like it is just floating there and doesn't really fit. Mr. Clemson, I LOVE your tie (you rock those colors), but your jacket is not working with it. Maybe if these two combined fashion notes, they could have each pulled off a good look!