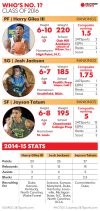 Recruiting rankings are highly imprecise measurements of skill. Some years it is a cakewalk, with the likes of LeBron James or Ben Simmons emerging as surefire future stars, making the decision about a top overall prospect remarkably simple.
The Class of 2016 is not so simple.
Rather than one transcendent star, the Class of 2016 sports three teenagers who could all emerge as future NBA All-Stars. All three have their own strengths, with the potential to be program changers at the next level. And while Harry Giles III, Jayson Tatum and Josh Jackson might all be short of the complete package right now, they are all convinced that they will be a major factor in college and the professional ranks, once they get there.
For the record, ESPN ranks Giles III as the nation's No. 1. 247 Sports lists Jackson as No. 1, with Giles number 3. Rivals.com also opts for Jackson, with Giles at No. 2 and Tatum at No. 3. Scout.com rankings that came out Wednesday have Giles as No. 1 followed by Jackson and Tatum. But who's really number 1? We  took a deeper dive into the three main contenders to try to find out.
THE BIG MAN
There's no missing Harry Giles III. Officially listed by the recruiting services as hitting 6-foot-10, Giles III might be even taller now.  He showcases smooth post moves and court vision of a swingman while lining up as a power forward or center. And when he does, he bangs on the inside, pulling in rebounds and patiently working within the offense until he gets the best possible shot available to his team.
Giles has been among the most celebrated hoops prospects in the Class of 2016 since it could be group as an official class. His complete game has inspired some to compare him to future NBA Hall of Famer Kevin Garnett. Others have compared him to Tim Duncan because of his fundamentally sound game. At least one commentator even said his skill set was most similar to Danny Manning, one of the coaches who is now recruiting him (Manning leads Wake Forest).
Giles isn't listening to the comparisons. Nor is he tuning in to any of the massive hype that has followed his ascension into the nation's top recruiting spot. He's focused on winning, first on the summer circuit with Team CP3, among others, and now with perennial national power program Oak Hill Academy, where he has transferred for his final high school season.
Of course, Giles doesn't need the inflated confidence that comes from hangers-on or others. He has plenty of confidence all his own.
"You want to be the best at all times," Giles told USA TODAY High School Sports. "I go in there and play hard, go to the ball and try to dominate every game. I don't worry about other players, I just worry about getting my minutes. As long as I get my minutes, I know I can make the difference."
His Nike EYBL coach Jon Adams agreed with Giles' assessment.
"He's special," Adams told USA TODAY High School Sports. "When he gets going, you're not going to stop him."
Giles' frank comment about minutes is insightful. One of the raps against his play is that he can sometimes slip into foul trouble. Foul trouble lands Giles on the bench, and it's hard to be the nation's best player when you aren't physically playing in the game.
It's an area of improvement for Giles as he looks toward his final prep campaign … and holding off the likes of Tatum and Jackson to maintain the top spot in the national rankings.
THE DIFFERENCE MAKER
Jayson Tatum is a man who knows what he wants. A versatile, 6-foot-8 small forward, Tatum creates havoc as a constant matchup mismatch. He can happily back down a defender or create a foot of space and launch a jumper. He's a scorer, but he's equally comfortable creating for teammates and dishing as he cuts through the lane. Perhaps most critically, he is very, very smooth with the ball.
It's that calm and cool ball-handling that helps set Tatum apart. He has the skill to go get the ball, rather than relying on a point guard to facilitate. He's a self-creator and a facilitator, and a truly dominant one at that.
Tatum also plays with a notable maturity, a trait which was evident at the Nike EYBL Peach Jam, where he helped steadily chip into a significant Team CP3 lead in the tournament semifinals before setting the stage for a St. Louis Eagles teammate to steal the spotlight.
That willingness to share is another trait which makes Tatum so special. He's a bona fide team player, and he's sure to be asked to do things outside his comfort zone when he arrives at Duke for the fall semester in 2016. Tatum announced his commitment to Coach Mike Krzyzewski's Blue Devils during the EYBL Peach Jam, becoming just the seventh major recruit to make his college decision by late July.
"He's a good player, a good team player," St. Louis Eagles Coach Corey Tate told USA TODAY High School Sports. "He works hard and he's getting better every chance he steps on the floor."
Tatum may still be improving, but he's already confident that he's the best as well.
"I think it's important (to be considered the No. 1 recruit)," Tatum told USA TODAY High School Sports. "Me and the other two guys who people talk about, we all step on the court every time and think we're the best every time."
Tatum plays his high school basketball for Chaminade College Prep in his hometown of St. Louis and plans to remain there.
Of course, when you're a player of Tatum's skill and class, you don't need a platform like Montverde Academy, Oak Hill Academy or Huntington Prep to build your personal brand. With skills like Tatum's, the attention and spotlight will always come to you.
THE WILD CARD
On paper, Josh Jackson and Jayson Tatum should be very similar prospects. Both project as small forwards in college and the NBA. Tatum is 6-foot-8, Jackson is 6-foot-7, and 10 pounds lighter than Tatum. Both are products of the Midwest, with Jackson hailing from the Detroit area compared with Tatum's St. Louis.
Yet that's where the similarities end, because Jackson is a very different recruit. He's a scorer par excellence, plain and simple, and he might be more athletic than almost any recruit in recent memory. He showcased some of that athleticism during the Under Armour Elite 24 Dunk Contest, holding off all comers to take home the title with dunks like the one you see below.
"His athleticism is just tremendous," ESPN recruiting analyst Reggie Rankin said. "Some guys have high school-level athleticism, some have college-level athleticism; Josh has NBA-level athleticism, today. That's not normal… In a good way."
Of course, it's not all about the dunks. The senior, who competes for Prolific Prep in California, Jackson took home Elite 24 Game co-MVP honors as well, connecting for 12 points and scrambling for seven rebounds while leading his team to victory.
That's what Jackson does best. He finds a way to win, and he does it himself. He is all too happy to take the game over with the ball in his own hands, a distinct difference to Giles and something that Tatum does only when needed. Jackson expects the ball, and he expects to score. And he usually does.
It's that instant impact which sets Jackson apart. Like his counterparts, he can take over a game by himself, it's just that Jackson can do it quicker, without any help from a surrounding cast. Is that enough to make him the nation's best? There's every chance.
THE RULES OF ENGAGEMENT
One of the hardest parts about determining who stands as the nation's top player is determining what skills make one the best player. Is the top recruit the best player at the moment that they're recruited? Are they the player with the highest potential for greatest impact in college and the NBA? Is it a combination of those two factors, plus a group of intangibles that can provide peace of mind for college coaches? There's no formal equation, though in any scenario, beauty is in the eye of the beholder. Just as each collegiate coach prioritizes different players and skills, there's no one skill that locks in top spot status, particularly when a group of players all have the ephemeral "it" qualities that make a teenage athlete stand out.
Perhaps fittingly, Jackson may have put the entire situation in context best:
"If you ask me, Harry and Jason the same exact question, I'm sure we would all give you different answers. I think I'm the best out of the three, but we're all totally different players and they're great players, as well. Harry is a really tough player. He hustles, gets a lot of rebounds and knows how to score in the post. Jayson has a really smooth game on the wing; he's a lot of finesse and has a really pretty jump shot. Myself, I run in transition, I get to the basket, pass and rebound."
He might even be the best, depending on how you feel about Harry Giles and Jayson Tatum.