What was the best high school football team in recent years? USA TODAY High School Sports is hoping to find out with a Super 25 Battle of the Champions tournament. The top four teams in the final Super 25 rankings for the last eight years are in contention to create the field of 32. The teams were seeded based on Ken Massey's computer power rankings and the simulation was played multiple times to determine the results. Winners advance until the ultimate champion is crowned.
MORE: How the tournament field was set
MORE: How the first round went
MORE: How the second round went
MORE: How the quarterfinal went
The semifinal scores: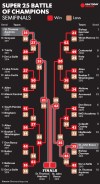 Analysis: The final will come down to South Florida vs. Southern California. In the quarterfinals, the 2008 St. Thomas Aquinas (Fort Lauderdale) squad scored another close win, its third win in a row by a touchdown or less, as it edged the 2012 Bellevue, Wash., squad 21-19. Interestingly, during the 2008 season, the Raiders had only one close game, a 35-24 defeat of Elder (Cincinnati) on the road, in their opener.
Aquinas was loaded with talent that season, with nine players off that team playing in the NFL last season: Giovani Bernard, James White, Phillip Dorsett, Brandon Linder, Cody Riggs, Leonard Hankerson, Desmen Southward, Lamarcus Joyner, and Gabe Holmes. A 10th player from that team, then-backup quarterback Jake Rudock, was drafted this season.
The 2013 St. John Bosco (Bellflower, Calif.) had an easier time in the other semifinal, rolling past the 2008 Allen team 42-29. The Braves were 16-0 in 2013 and averaged 47.2 points a game, so it's not a surprise they scored 42 points. It was led by quarterback Josh Rosen, who was a freshman All-American last season at UCLA;  wide receiver/defensive back Jaleel Wadood, now a starting defensive back at UCLA; Shay Fields Jr., a starting junior wide receiver at Colorado; and Damien Mama, a starting junior offensive guard at Southern Cal.