What was the best high school football team in recent years? USA TODAY High School Sports is hoping to find out with a Super 25 Battle of the Champions tournament. The top four teams in the final Super 25 rankings for the last eight years are in contention to create the field of 32. The teams were seeded based on Ken Massey's computer power rankings and the simulation was played multiple times to determine the results. Winners advance until the ultimate champion is crowned.
MORE: How the tournament field was set
Here are the scores from the first round: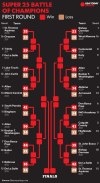 Analysis: The left side of the bracket was a rough one for De La Salle (Concord, Calif.), which lost twice by close scores. The 2014 Spartans fell by three points to the 2011 Trinity (Louisville) team, which blew out most of the teams it played that season. The Spartans' 2015 team then lost by a crummy two points to Bellevue (Wash.), the team that ended De La Salle's 151-game winning streak in 2004.
The most lopsided game in the bracket was the 23-point drumming the 2011 Don Bosco Prep (Ramsey, N.J.) team put on the '12 squad from Butler (Matthews, N.C.). The result was surprising because Butler's defense was dominant in 2012, with five shutouts.
The closest game on the right side bracket was the one-point win by the 2014 Bishop Gorman (Las Vegas) squad over the 2009 team from West Monroe (La.). While the Gaels had a few close games that season, nobody was able to keep them to less than 23 points as they averaged 51.7 points a game, so kudos to the Rebels for their tenacious defense.
The shocker of the bracket was how easily the 2008 Centennial (Corona, Calif.) team handled the 2012 Katy (Texas) team. Maybe the computer was factoring in the players would be four years older and more developed.