What was the best high school football team in recent years? USA TODAY High School Sports is hoping to find out with a Super 25 Battle of the Champions tournament. The top four teams in the final Super 25 rankings for the last eight years are in contention to create the field of 32. The teams were seeded based on Ken Massey's computer power rankings and the simulation was played multiple times to determine the results. Winners advance until the ultimate champion is crowned.
MORE: How the tournament field was set
MORE: How the first round went
Here are the scores from the second round: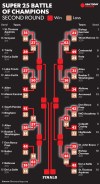 Analysis: The draw was guaranteed to knock off at least two Texas teams with two of the games involving only teams from the Lone Star State, but what great games they were. Apparently the firepower for the 2008 Lake Travis (Austin, Texas) was barely too much for the 2011 Allen, Texas team in a 50-46 shutout. The coach for Lake Travis that season, Chad Morris, is now the coach at Southern Methodist.
In the other Texas-Texas matchup, 2014 Allen, led by quarterback Kyler Murray, scraped past 2009 Abilene 36-35. The 2008 Allen team also escaped with a close victory, defeating 2010 South Panola (Batesville, Miss.) 27-24.
Biggest head-scratcher: Somehow, the computer simulation had the 2012 Bellevue, Wash., team defeating 2011 Don Bosco Prep (Ramsey, N.J.) 63-14. In real life, Don Bosco Prep only allowed more than two touchdowns all season and it allowed an average of only 8.2 points a game. Bellevue was certainly capable of scoring points that season, particularly against in-state opponents, but in its lone out-of-state game, they won 31-24 over Trinity (Euless, Texas).
Art imitating life, sort of: The 2013 St. John Bosco (Bellflower, Calif.) defeated the 2010 De La Salle (Concord, Calif.) squad 48-20. The Braves did defeat De La Salle that season in the state championship, but by a more realistic score of 20-14.