game officials hosted a draft party
with team captains Marcus Mariota of the Tennessee Titans and Ronnie Stanley of the Baltimore Ravens) announcing their picks.
It's a unique twist in how rosters are generally released for all-star or All-America events and the players and their families enjoyed the change.
RELATED: Check out the cool helmet designs for Polynesian Bowl
The Polynesian Bowl features high school seniors and will be played on the enshrinement weekend for the Polynesian Football Hall of Fame. Up to 75 percent of the 84 players in the game are of Polynesian ancestry, with players from Hawaii, the U.S. mainland, Australia, New Zealand, Tonga and Samoa, with the other 25 percent of other ancestries.
Among the players involved are QBs Dylan McCaffrey (a Michigan commit) and Tua Tagovailoa (Alabama commit), as well as defensive linemen A.J. Epenesa (Iowa commit), Marlon Tuipolotu (Washington commit) and a host of other top recruits.
The rosters are below as provided by the game: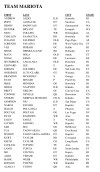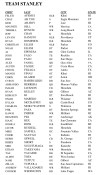 To announce the rosters for the inaugural Polynesian Bowl on Saturday in Hawaii,