Before Michael Jordan was making Bryon Russell fall with a killer crossover and draining the go ahead jumper to win his sixth NBA title with the Chicago Bulls, Jordan was a skinny, determined athlete dominating the competition at Laney High (Wilmington, N.C.). Before Adrian Peterson was trucking opposing defenses and racking up 2,097 yards in a single season for the Minnesota Vikings he was shining bright under the Friday night lights at Palestine High (Palestine, Texas), averaging 12 yards a carry and scoring 32 touchdowns.
Before athletes can become legendary they have to lay their foundation in the high school ranks. Each week I'll chat with a high-profile athlete's former coach, mentor, family member, etc., and reminisce about their high school playing days; everything from the greatest moment to the wackiest story.
This week I caught up with Los Angeles Lakers star Kobe Bryant's high school coach at Lower Merion (Ardmore, Pa.) Gregg Downer.
Jason Jordan: What's your best memory of Kobe on the court in high school?
Gregg Downer: We were getting ready to play in the state semifinals in 1996, his senior year, and he had broken his nose a few days earlier in practice. He was experimenting with the face mask and it was hurting his peripheral vision; he really didn't like it. After warming up with it he took it off in front of his teammates during our last few moments of preparation and threw it off the wall and said, "Let's go to war!" That memory just kind of symbolized what a warrior he is and how much tolerance he has for pain. It was a very inspirational moment.
PHOTOS: ALL-USA Hoops Legends Then & Now
JJ: When did you know he'd be, not just a pro, but legendary pro?
GD: I met him in the eighth grade and I knew then that he was going to be a pro, but as time went on, how good of a pro started to unravel. When he was heading into his senior year he was scrimmaging with Jerry Stackhouse and Shawn Bradley and all the reports were that he was holding his own in those settings, if not getting the best of some of those settings. Then he exploded into his senior year and become the Naismith Player of the Year, the top ranked high school player and became a McDonald's All American. Some of the stuff he was doing at that time made me realize we had something really special going on.
MORE: A Look Back at LeBron James
JJ: Everyone talks about how strong Kobe's mindset is; did you witness that even back then?
GD: Well, as I got to know him better, I learned how much he hated to lose and I saw that work ethic firsthand. It is kind of unusual DNA. Maybe Tiger Woods has it, maybe Michael Jordan has it, maybe Larry Bird has it… You combine his hatred of losing with his work ethic and that's what created this special person.
JJ: What's the craziest thing you saw Kobe do in high school after losing?
GD: He lost a practice drill one time and we had a 5-foot-7 guard named Rob Schwartz and he thought Rob had the costly turnover that cost his team the drill and proceeded to chase him throughout the hallways as the players were on water break. This wasn't just "I'm gonna chase you and scold you;" to me it looked like "I'm gonna chase you and I'm gonna kill you."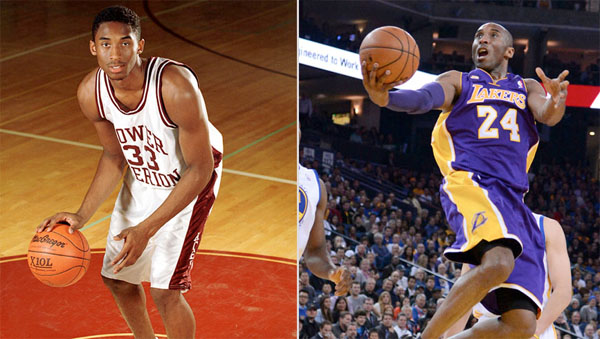 JJ: What was Kobe's personality on the team?
GD: He was pretty serious; first guy to practice, last guy to leave. He would come in to the gym during snow days and lift weights four or five days a week. He was a likable guy. He's got plenty of charisma, plenty of personality, but when it comes to the stuff in between the lines there's really not a lot of messing around.
JJ: Michael Jordan said that the only player he wasn't sure he could beat one-on-one was Kobe. Both in their primes, who do you think would've won that game?
GD: I've gotta take my guy. Someone's gonna win that game 11-10, someone's gonna have a bloody nose, someone's gonna be missing an eye perhaps; I mean that is gonna be a cage match like you've never seen. Both of them, obviously, are two of the greatest ever and it's no disrespect to Michael. I think there a lot of people that side with Jordan and think that game would be a little bit more lopsided… I don't subscribe to that. Whoever the poor soul was that had to ref that would be in big trouble. That's just a clash of the titans!
MORE: A Look Back at Peyton Manning
JJ: Does he amaze you with all the things he's accomplishing?
GD: Well, he's just had such a great career; the five rings, all of the "All Defensive awards," the 81-point game, the 61-point game, everything. What I admire most about him, truthfully, is the fact that he never mails it in and he plays hurt. People will scrutinize that salary the Lakers just gave him, but to me he's earned every penny of that. That guy has played through so many injuries. He's just a warrior and he's got a great, great resume and hopefully the last chapter will be a good one. I'm not necessarily surprised by what he's accomplished, I'm more proud than anything.
Follow Jason Jordan on Twitter: @JayJayUSATODAY