[jwplayer lpqhoLGb-BmKM743H]
The Fourth of July is usually a popular day for recruits to announce their commitment and that proved to be the case throughout Sunday.
Many of the top recruits in the class of 2022 brought an end to their recruitment during the holiday, announcing their commitment to the institution of their choice. As such, numerous Power 5 programs across the nation stockpiled talent in the hopes of building a winner for years to come.
Let's take a look at which five and four-star 2022 recruits committed to a school over the weekend and where those recruits landed, as well as each Power 5 school's fourth of July pickup.
Note: All measurables and recruiting rankings come courtesy of 247Sports and the industry-generated 247Sports Composite Rankings.
J.T. Tuimoloau
[jwplayer lpqhoLGb-BmKM743H]
High School: Eastside Catholic (Wash.)
Position: Defensive End
Height: 6-foot-4.5
Weight: 277 pounds
Recruit Ranking: No. 3 overall, No. 2 defensive lineman, No. 1 Washington
Committed to: Ohio State
Kelvin Banks
[jwplayer lpqhoLGb-BmKM743H]
High School: Summer Creek (Texas)
Position: Offensive Tackle
Height: 6-foot-5
Weight: 300 pounds
Recruit Ranking: No. 14 overall, No. 2 offensive tackle, No. 5 Texas
Committed to: Oregon
Derrick Moore
[jwplayer lpqhoLGb-BmKM743H]
High School: St. Frances Academy (Md.)
Position: Defensive Lineman
Height: 6-foot-4
Weight: 260 pounds
Recruit Ranking: No. 71 overall, No. 12 defensive lineman, No. 3 Maryland
Committed to: Oklahoma
Jordan Hudson
[jwplayer lpqhoLGb-BmKM743H]
High School: Garland (Texas)
Position: Wide Receiver
Height: 6-foot-1
Weight: 180 pounds
Recruit Ranking: No. 113 overall, No. 14 wide receiver, No. 23 Texas
Committed to: SMU
Jacolby Spells
[jwplayer lpqhoLGb-BmKM743H]
High School: American Heritage (Fla.)
Position: Cornerback
Height: 5-foot-11
Weight: 170 pounds
Recruit Ranking: No. 243 overall, No. 27 cornerback, No. 28 Florida
Committed to: West Virginia
Tyreese Fearbry
[jwplayer lpqhoLGb-BmKM743H]
High School: Perry Traditional Academy (Pa.)
Position: EDGE
Height: 6-foot-5
Weight: 225 pounds
Recruit Ranking: No. 253 overall, No. 12 EDGE, No. 8 Pennsylvania
Committed to: Penn State
Zane Durant
[jwplayer lpqhoLGb-BmKM743H]
High School: Lake Nona (Fla.)
Position: Defensive Lineman
Height: 6-foot-1
Weight: 251 pounds
Recruit Ranking: No. 338 overall, No. 46 defensive lineman, No. 42 Florida
Committed to: Penn State
Antonio Kite
[jwplayer lpqhoLGb-BmKM743H]
High School: Anniston (Ala.)
Position: Athlete
Height: 6-foot-1
Weight: 180 pounds
Recruit Ranking: No. 342 overall, No. 23 athlete, No. 13 Alabama
Committed to: Alabama
KJ Miles
[jwplayer lpqhoLGb-BmKM743H]
High School: St. Peter's Prep (N.J.)
Position: Defensive Lineman
Height: 6-foot-3
Weight: 286 pounds
Recruit Ranking: No. 350 overall, No. 50 defensive lineman, No. 4 New Jersey
Committed to: Georgia Tech
Devin Moore
[jwplayer lpqhoLGb-BmKM743H]
High School: Naples (Fla.)
Position: Safety
Height: 6-foot-3
Weight: 190 pounds
Recruit Ranking: No. 364 overall, No. 25 safety, No. 48 Florida
Committed to: Notre Dame
Austin Brown
[jwplayer lpqhoLGb-BmKM743H]
High School: Johnston City (Ill.)
Position: Safety
Height: 6-foot-1
Weight: 195 pounds
Recruit Ranking: No. 390 overall, No. 28 safety, No. 6 Illinois
Committed to: Wisconsin
Kaleb Artis
[jwplayer lpqhoLGb-BmKM743H]
High School: St. Francis Preparatory School (N.Y.)
Position: Defensive Lineman
Height: 6-foot-4
Weight: 290 pounds
Recruit Ranking: No. 430 overall, No. 63 defensive lineman, No. 2 New York
Andrew Keller
[jwplayer lpqhoLGb-BmKM743H]
High School: Waunakee (Wisc.)
Position: Tight End
Height: 6-foot-6
Weight: 210 pounds
Recruit Ranking: No. 493 overall, No. 23 tight end, No. 6 Wisconsin
Colston Loveland
[jwplayer lpqhoLGb-BmKM743H]
High School: Gooding (Ind.)
Position: Tight End
Height: 6-foot-5
Weight: 230 pounds
Committed to: Michigan
Dylahn McKinney
[jwplayer lpqhoLGb-BmKM743H]
High School: Colleyville Heritage (Texas)
Position: Cornerback
Height: 6-foot
Weight: 175 pounds
Recruit Ranking: No. 668 overall, No. 64 cornerback, No. 95 Texas
Committed to: Oklahoma State
Conner Harrell
[jwplayer lpqhoLGb-BmKM743H]
High School: Thompson (Ala.)
Position: Quarterback
Height: 6-foot-1
Weight: 191 pounds
Recruit Ranking: No. 683 overall, No. 44 quarterback, No. 26 Alabama
Committed to: North Carolina
James Monds III
[jwplayer lpqhoLGb-BmKM743H]
High School: Vero Beach (Fla.)
Position: Cornerback
Height: 5-foot-10
Weight: 177 pounds
Recruit Ranking: No. 695 overall, No. 67 cornerback, No. 98 Florida
Committed to: Indiana
Jared Badie
[jwplayer lpqhoLGb-BmKM743H]
High School: Oswego East (Ill.)
Position: Linebacker
Height: 6-foot-5
Weight: 212 pounds
Recruit Ranking: No. 731 overall, No. 74 linebacker, No. 14 Illinois
Committed to: Illinois
Rashaud Pernell
[jwplayer lpqhoLGb-BmKM743H]
High School: Highland Springs (Va.)
Position: Defensive Lineman
Height: 6-foot-4
Weight: 250 pounds
Recruit Ranking: No. 738 overall, No. 105 defensive lineman, No. 20 Virginia
Committed to: Virginia Tech
Kenzy Paul
[jwplayer lpqhoLGb-BmKM743H]
High School: McCallie School (Tenn.)
Position: Athlete
Height: 6-foot-1
Weight: 193 pounds
Recruit Ranking: No. 870 overall, No. 70 athlete, No. 31 Tennessee
Committed to: Vanderbilt
Gilbert Tongrongou
[jwplayer lpqhoLGb-BmKM743H]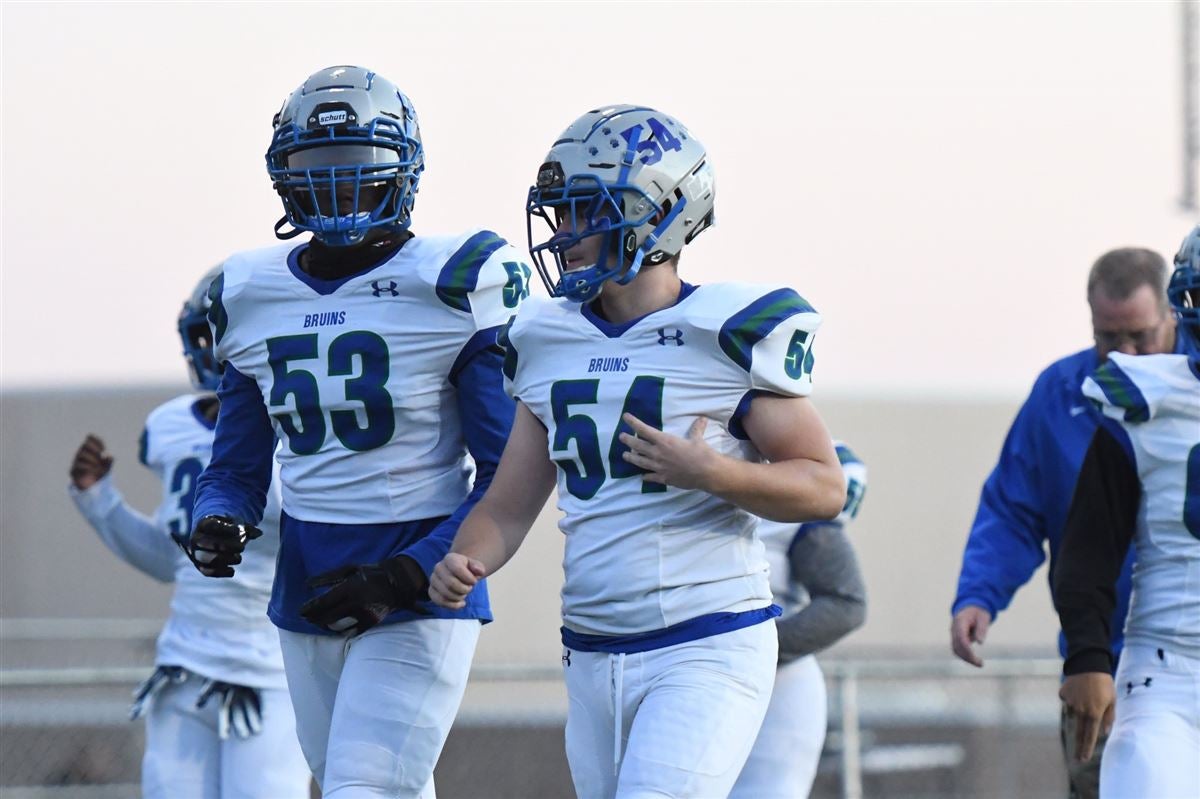 High School: Forest Park (Va.)
Position: Defensive Lineman
Height: 6-foot-4
Weight: 255 pounds
Committed to: Boston College
Nate Kurisky
[jwplayer lpqhoLGb-BmKM743H]
High School: Gonzaga (Washington D.C.)
Position: Tight End
Height: 6-foot-3
Weight: 235 pounds
Committed to: Georgia Tech
Robert Spears-Jennings
[jwplayer lpqhoLGb-BmKM743H]
High School: Broken Arrow (Okla.)
Position: Defensive Back
Height: 6-foot-2
Weight: 195 pounds
Committed to: Oklahoma
Bryce Cowan
[jwplayer lpqhoLGb-BmKM743H]
High School: Amos P. Godby (Fla.)
Position: Linebacker
Height: 6-foot-3.5
Weight: 200 pounds
Committed to: Vanderbilt
Xavion Brice
[jwplayer lpqhoLGb-BmKM743H]
High School: Seguin (Texas)
Position: Athlete
Height: 6-foot-1
Weight: 175 pounds
Committed to: Oklahoma
Kivon Wright
[jwplayer lpqhoLGb-BmKM743H]
High School: Manvel (Texas)
Position: EDGE
Height: 6-foot-4
Weight: 220 pounds
Committed to: Boston College
Quan Peterson
[jwplayer lpqhoLGb-BmKM743H]
High School: South Pointe (S.C.)
Position: Cornerback
Height: 6-foot-1
Weight: 175 pounds
Committed to: Syracuse
Kyle Efford
[jwplayer lpqhoLGb-BmKM743H]
High School: Dacula (Ga.)
Position: Linebacker
Height: 6-foot-2.5
Weight: 225 pounds
Committed to: Georgia Tech
KD Hutchinson
[jwplayer lpqhoLGb-BmKM743H]
High School: Harris County (Ga.)
Position: Athlete
Height: 5-foot-7
Weight: 175 pounds
Committed to: Vanderbilt
Corey Gordon
[jwplayer lpqhoLGb-BmKM743H]
High School: Putnam City West (Okla.)
Position: Safety
Height: 6-foot-4
Weight: 180 pounds
Committed to: Baylor