[jwplayer lpqhoLGb-BmKM743H]
The 2021 high school football season is underway in certain states and just weeks away from kicking off in others, which means some of the top talents in the nation will be returning to the field in search of a state championship.
With the season on the horizon, USA Today High School Sports is taking a look at the top players in some of the nation's high school football hotspots.
Here are the top 25 class of 2022 high school football players from Florida.
RELATED: Top 25 Class of 2022 high school football players from Florida
2
Malaki Starks
[jwplayer lpqhoLGb-BmKM743H]
High School: Jefferson
Position: Linebacker
Height: 6-foot-1
Weight: 200 pounds
College Commitment: Georgia
3
Mykel Williams
[jwplayer lpqhoLGb-BmKM743H]
High School: Hardaway
Position: Defensive Line
Height: 6-foot-5
Weight: 265 pounds
College Commitment: USC
4
Gunner Stockton
[jwplayer lpqhoLGb-BmKM743H]
High School: Rabun County
Position: Quarterback
Height: 6-foot-1
Weight: 220 pounds
College Commitment: Georgia
5
Deyon Bouie
[jwplayer lpqhoLGb-BmKM743H]
High School: Bainbridge
Position: Athlete
Height: 5-foot-11
Weight: 185 pounds
College Commitment: Texas A&M
6
Tyre West
[jwplayer lpqhoLGb-BmKM743H]
High School: Tift County
Position: Defensive Line
Height: 6-foot-3
Weight: 280 pounds
College Commitment: Georgia
7
Jake Johnson
[jwplayer lpqhoLGb-BmKM743H]
High School: Oconee County
Position: Tight End
Height: 6-foot-5
Weight: 225 pounds
College Commitment: LSU
8
Elijah Pritchett
[jwplayer lpqhoLGb-BmKM743H]
High School: Carver
Position: Offensive Tackle
Height: 6-foot-6
Weight: 280 pounds
College Commitment: Undecided
9
Oscar Delp
[jwplayer lpqhoLGb-BmKM743H]
High School: West Forsyth
Position: Tight End
Height: 6-foot-5
Weight: 220 pounds
College Commitment: Undecided
10
Sam Horn
[jwplayer lpqhoLGb-BmKM743H]
High School: Collins Hill
Position: Quarterback
Height: 6-foot-4
Weight: 190 pounds
College Commitment: Missouri
11
Marquis Groves-Killebrew
[jwplayer lpqhoLGb-BmKM743H]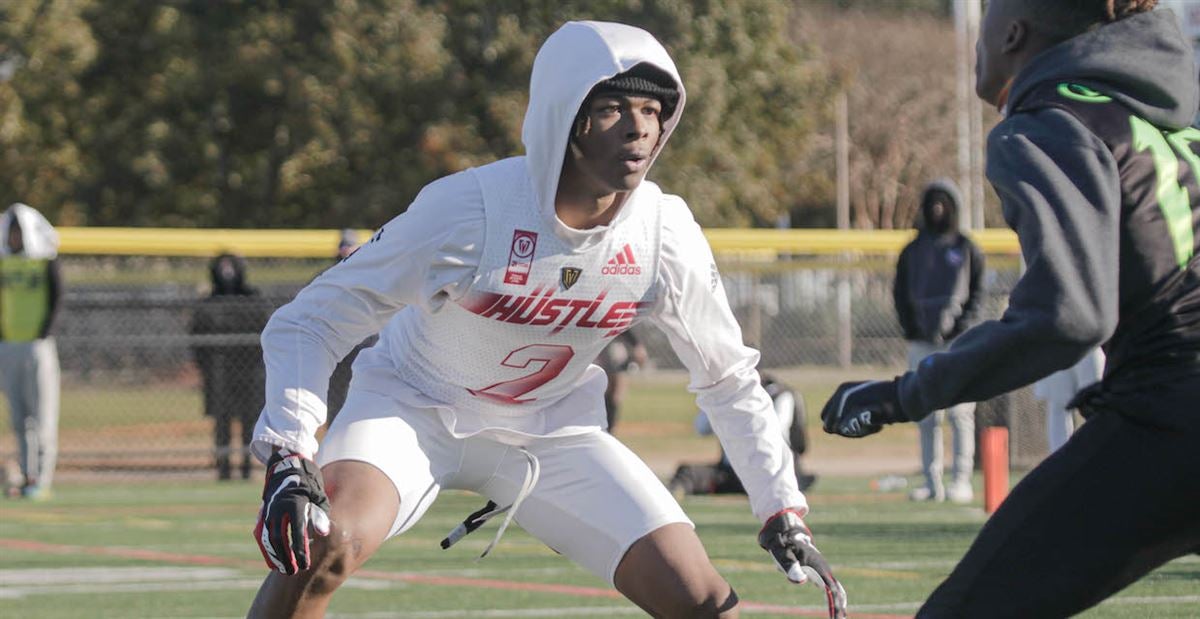 High School: North Cobb
Position: Cornerback
Height: 6-foot
Weight: 180 pounds
College Commitment: Georgia
12
Addison Nichols
[jwplayer lpqhoLGb-BmKM743H]
High School: Greater Atlanta Christian School
Position: Interior Offensive Line
Height: 6-foot-5
Weight: 318 pounds
College Commitment: Tennessee
13
Christen Miller
[jwplayer lpqhoLGb-BmKM743H]
High School: Cedar Grove
Position: Defensive Lineman
Height: 6-foot-4
Weight: 285 pounds
College Commitment: Undecided
14
Kojo Antwi
[jwplayer lpqhoLGb-BmKM743H]
High School: Lambert
Position: Wide Receiver
Height: 6-foot
Weight: 190 pounds
College Commitment: Ohio State
15
C.J. Washington
[jwplayer lpqhoLGb-BmKM743H]
High School: Cedartown
Position: Linebacker
Height: 6-foot-1
Weight: 215 pounds
College Commitment: Georgia
16
Jaron Willis
[jwplayer lpqhoLGb-BmKM743H]
High School: Lee County
Position: Linebacker
Height: 6-foot-2
Weight: 228 pounds
College Commitment: Georgia Tech
17
De'Nylon Morrissette
[jwplayer lpqhoLGb-BmKM743H]
High School: North Cobb
Position: Wide Receiver
Height: 6-foot-1
Weight: 200 pounds
College Commitment: Georgia
18
Jacurri Brown
[jwplayer lpqhoLGb-BmKM743H]
High School: Lowndes
Position: Quarterback
Height: 6-foot-4
Weight: 205 pounds
College Commitment: Miami
19
Daniel Martin
[jwplayer lpqhoLGb-BmKM743H]
High School: Marietta
Position: Linebacker
Height: 6-foot-2
Weight: 195 pounds
College Commitment: Undecided
20
Janiran Bonner
[jwplayer lpqhoLGb-BmKM743H]
High School: Cedar Grove
Position: Wide Receiver
Height: 6-foot-1
Weight: 193 pounds
College Commitment: Georgia Tech
21
Holden Geriner
[jwplayer lpqhoLGb-BmKM743H]
High School: Benedictine Military School
Position: Quarterback
Height: 6-foot-3
Weight: 210 pounds
College Commitment: Auburn
22
Isaiah Bond
[jwplayer lpqhoLGb-BmKM743H]
High School: Buford
Position: Athlete
Height: 5-foot-10.5
Weight: 170 pounds
College Commitment: Florida
23
Marcus Allen
[jwplayer lpqhoLGb-BmKM743H]
High School: Walton
Position: Cornerback
Height: 6-foot-2
Weight: 175 pounds
College Commitment: North Carolina
24
Holden Staes
[jwplayer lpqhoLGb-BmKM743H]
High School: Westminster School
Position: Tight End
Height: 6-foot-4
Weight: 230 pounds
College Commitment: Notre Dame